MERRY CHRISTMAS
to all my wonderful customers and friends! Make sure to check back after the new year for all new primitives! Hope your holiday is filled with love and laughter, friends and family, and a little bit of that Christmas magic! ~~Annie




Follow along on my
Facebook page for
all the latest sales,
specials and listings!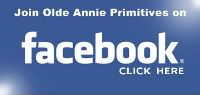 Olde Annie Primitives specializes in handmade primitives, Americana,summer primitives,christmas primitives,halloween primitives,fall primitives,
OOAK primitives, one of a kind, pin keeps, patterns, epatterns, candle mats, bowl fillers
All Rights Reserved © 2009-2013
Powered by DIYeStores.com - a DIY Website Builder
Graphics by Amybug's Primitive Attic
Total Website Visits: 102454
Featured Items
Quilt Top Christmas Trees
$13.95
Musical Notes Tucks
$12.95
Christmas Dish Towel Hostess Gift
$5.95
Hand Painted Wood Plate Gingerbread Man
$14.95
Candy Cane Tucks
$10.95